Documents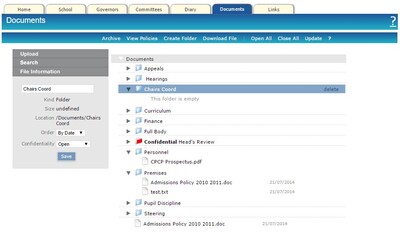 This tab gives access to documents stored on the system. They are organised in folders relating to each committee and to the full governing body. Other folders or sub-folders may have been added to help organise the documents further.
open any folder by double clicking it or by clicking the icon beside the folder.
open or download a document by double clicking or by selecting it and clicking 'Download'
search for a document by a word or phrase in the title or comments using the Search dialog on the left hand panel.
Documents can be in one of a number of formats. Most schools will prepare documents in MS Word saving as '.doc'. This may be the most convenient format but there is a risk of viruses being transmitted in this format. There may also be compatibility issues between different versions of MS Word. Sharing Word documents as Rich Text Format ('.rtf') is safer and schools may prefer to have a policy to share only 'rtf' files. Txt, pdf and html formats can also be stored.
To load a document into one of the folders, first select your destination folder, then click 'Upload' on the left hand side of the page. A dialog will open confirming your destination folder. Click 'Add File' and browse your own computer for the file to be uploaded and click 'Open'. If you have a number of files to upload to the same folder, you can click 'Add File' again to add to the list. Once you have selected your file or files, click 'Upload' to load on to the system.
You should now set the information for the files (under 'File Information' in left hand column). Select the document and set the title (initially set to the file name), the Committee, the Doc type, the Date and any comments and then click 'Save'.
Menu Items
Archive
- select older documents to be archived and deleted from the system.
More...
View policies
- this provides a register of Policies with review dates etc.
More...
Create Folder
- use to create folder at top level or within other folders.
Download File
- downloads highlighted document. Same as double clicking document.
Open All
- opens all folders in the store
Close All
- Closes all folders so only top level folders are visible.
Update
- refreshes the view of folders and documents
Confidential Documents
Folders can be set as Open or Confdential. Documents within Open folders are visible and downloadable for all users. Confidential folders are visible to all users but documents within those folders are hiden from users with Guest privilege. This means that Associate members can be restricted in the documents they can view but assigning them Guest status.